Description
Complete Air Brush Set - Include all the airbrush painting supplies, 1/6 HP Single Cylinder Piston Compressor, Dual-Action 2pcs gravity feed and 1pc siphon feed airbrush guns, Airbrush paints in 24 colors, 1/8'' airhose, cleaning pot, extend airbrush holder, 5 glass bottles for siphon feed airbrush, droppers and watering can, cleaning brushes for needles and airbrushes, coloring wheel for mixing reference.

Professional Air Compressor - two compressor-mounted and 2 removable airbrush holders can accommodate four airbrushes, with air filter water trap delivers 20-23L/min airflow and 1450/1750rpm speed; It is light-weight, vibrant industrial style. Low-noise at 47-dB and oil-free, the motor is close to overheating, powerful pressure provide a continues painting air supplies.

3 Dual-Action Air Brush Guns: Model AR30 with a 7cc gravity feed fluid cup and 0.5mm tip, Model AR35 with a 2cc gravity feed fluid cup and 0.25mm tip, plus a Model AR28 siphon feed with a 0.35mm tip and 5 - 22 cc siphon bottles. Spray with pre-equipped airbrushes for creating fine detail to wider coverage without installation, user-friendly.

Acrylic Airbrush Paints Studio Kit - 22 Classic, 2 Fluorescent Airbrush Paint, thinning is not required, ready to spray. Bright and rich colors, fine powder molecules pigment. Match well with your airbrush with a smooth consistency, excellent airbrush flow characteristics. First choice for art lovers. Not for the body, nail, and inedible paint.

Safe Mention & Guarantee - Please read the manual user carefully before using the airbrush. In order to make sure the airbrush works properly, please test it first by using enough water. If for any reason you are unsatisfied with this airbrushes kit, please return the paint set for a full refund. Enjoy using the airbrushes kit and all the art accessories with confidence.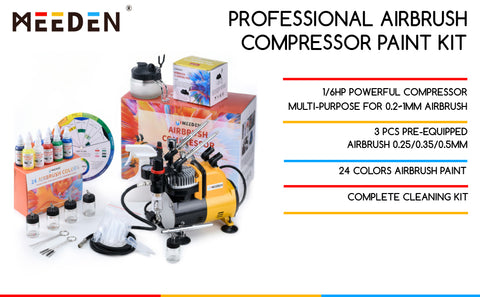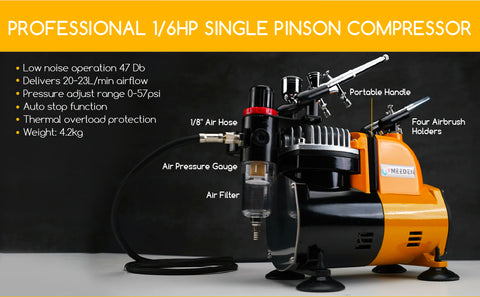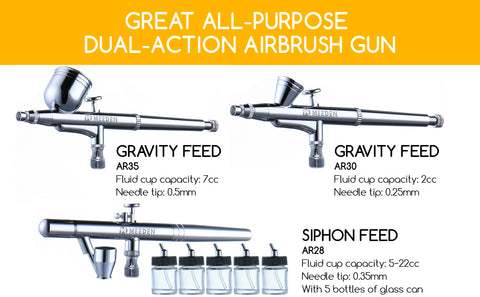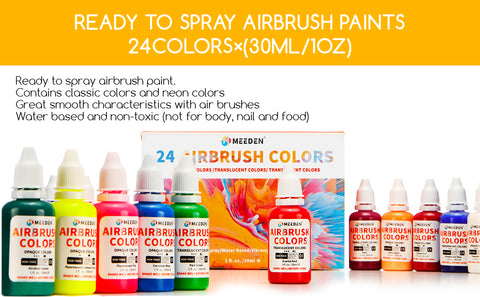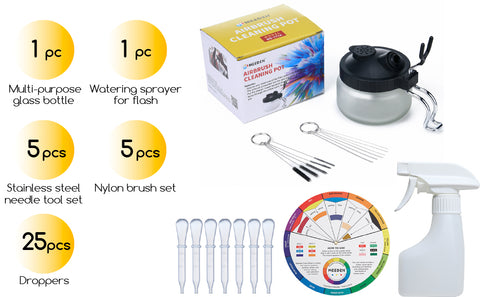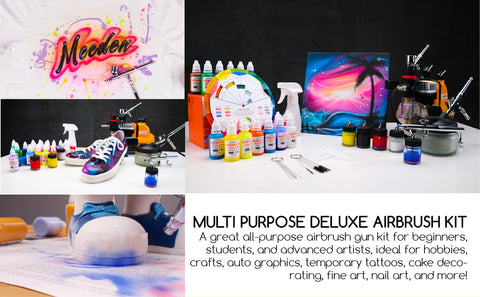 Payment & Security
Your payment information is processed securely. We do not store credit card details nor have access to your credit card information.