Description
Premium Stretched Canvas: Our stretched canvases are 100% pure cotton made, smooth surface brings artist effortless painting experience. High quality camphor pine wood without burr and knot creates a firm frame. Every piece shows craftsmanship. No matter you use this stretched canvas to paint, collage, draw, sketch or illustrate, it has an excellent tinting strength and will not crumble or crack.

Primed & Ready for Painting: We have patented 3 coatings lines, and imported high-quality acrylic acid emulsion. Each canvas is primed with 8 oz triple-layer acid-free acrylic titanium gesso, with good absorption, and no penetration.

Mutil-Purpose Canvas for Painting: These stretched canvas are suitable for acrylic, pouring, oil paintings, gouache, tempera, airbrushing & More. Perfect for art students, beginners and artists. It's also ideal for framing or hanging on the wall after creating your art works.

White Blank Stretched Canvas Pack: If you're an artist or art amateurs who are going to sell your artworks or you're practicing different techniques, this great value pack of painting canvases will meet all your needs. Enough pieces of drawing canvas will ensure to create for a while.

100% Satisfaction Guarantee: Free your art imagination! We highly recommend you for this new arrival stretched painting canvases--Quality, practical, yet affordable. But if you have any dissatisfaction with it, please do feel free to contact us, we'd help you with a replacement or refund. MEEDEN is for art. MEEDEN is also for every art creator.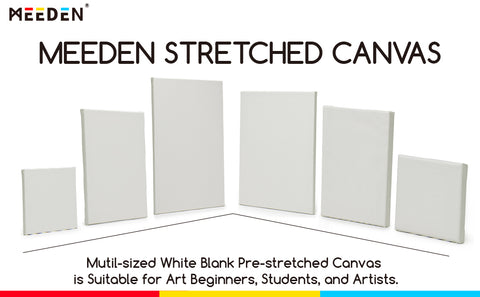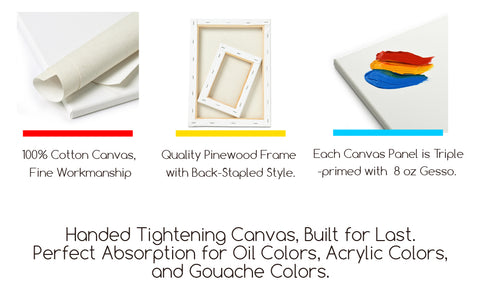 Payment & Security
Your payment information is processed securely. We do not store credit card details nor have access to your credit card information.